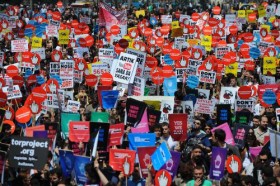 Thousands gather in more than 30 cities around Turkey on Sunday in order to protest a new system of Internet filtering which the opposition considers as Internet censorship.
The Information and Communications Technologies Authority, " B.T.K. ", is going to require Internet providers to offer consumers four choices for filtering the Internet that would limit access to many sites, taking effect in August the 22th. The regulations will bring four mandatory filtering options to Turkey's Internet users. The filters will be "family," "child," "domestic" and "standard." The criteria by which websites will be filtered will be determined by the BTK. Circumventing these measures will be considered a crime and anyone doing or attempting to do so will face heavy fines. Many websites are expected to be blocked by the filters regardless of their content.
Turkey protests : " Don't touch my Internet! "
Protesters in Taksim Square in Istanbul called the action, which government related regulators say is intended to protect minors, an assault on personal freedom and liberty and an act of censorship in Turkey. Protesters organized coordinated demonstrations on social networking sites such as Facebook in dozens of cities around Turkey on Sunday. They carried posters reading "Don't touch my Internet!" during a march down İstanbul's İstiklal Street, which was attended by ten-thousands. Among the slogans people cheered, "The Internet is ours and will remain ours!". In addition to street protests, about one million people joined campaigns organised online to protest the new regulation, which is claimed to mark the death of Internet in Turkey. The filtering is considered to be as "unlawful" and "arbitrary".
The B.T.K., on the other hand, has made an announcment saying that Internet users can continue accessing all content if they choose the "standard" option for filtering.
Tayfun Acarer, the chairman of the B.T.K., told reporters that a change was due as a result of complaints and demands for safer Internet use in Turkey.
Turkey Internet Censorship or Internet Filter ?
For many people in Turkey, being obliged to select a filtering option during Internet usage is just another form of censorship. Thousands of Web sites are already blocked by the state, most of them without any publicized reason.
Furthermore, the B.T.K. recently issued a ban on the use many casual words on the Internet, like "girl," "partner" and "animal." However an explanation was not yet made how this word ban will be administered.
The most controversial act of Internet censorship in Turkey, so far, was against video sharing site YouTube, which was blocked in 2007 after a video containing insults to Mustafa Kemal Ataturk, the founder of modern Turkey, was posted. Insulting Ataturk is a criminal offense in Turkey.
That ban was lifted after more than two years when the content was removed from the Web site, after series of heavy public protests in Turkey.
[media id=465 width=610 height=340]
From €29 Madrid, Barcelona hotel reservation best services guaranteed.
Madrid Tours